The Blackamoor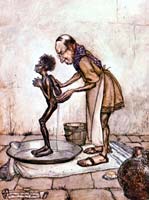 Man once bought an Ethiopian slave, who had a black skin like all Ethiopians; but his new master thought his colour was due to his late owner's having neglected him, and that all he wanted was a good scrubbing.

So he set to work with plenty of soap and hot water, and rubbed away at him with a will, but all to no purpose.

His skin remained as black as ever, while the poor wretch all but died from the cold he caught.
---
http://kids.christiansunite.com/Aesops_Fables/The_Blackamoor.shtml
Additional information on ChristiansUnite.com is available on the Internet at http://www.christiansunite.com/
Copyright © 1999-2018 ChristiansUnite.com. All rights reserved.