Venus And The Cat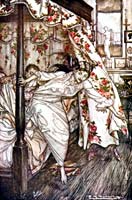 Cat fell in love with a handsome young man, and begged the goddess Venus to change her into a woman.

Venus was very gracious about it, and changed her at once into a beautiful maiden, whom the young man fell in love with at first sight and shortly afterwards married.

One day Venus thought she would like to see whether the Cat had changed her habits as well as her form; so she let a mouse run loose in the room where they were.

Forgetting everything, the young woman had no sooner seen the mouse than up she jumped and was after it like a shot: at which the goddess was so disgusted that she changed her back again into a Cat.
---
http://kids.christiansunite.com/Aesops_Fables/Venus_And_The_Cat.shtml
Additional information on ChristiansUnite.com is available on the Internet at http://www.christiansunite.com/
Copyright © 1999-2018 ChristiansUnite.com. All rights reserved.