The Kid And The Wolf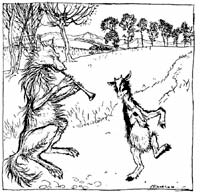 Kid strayed from the flock and was chased by a Wolf. When he saw he must be caught he turned round and said to the Wolf, "I know, sir, that I can't escape being eaten by you: and so, as my life is bound to be short, I pray you let it be as merry as may be. Will you not play me a tune to dance to before I die?"

The Wolf saw no objection to having some music before his dinner: so he took out his pipe and began to play, while the Kid danced before him.

Before many minutes were passed the gods who guarded the flock heard the sound and came up to see what was going on. They no sooner clapped eyes on the Wolf than they gave chase and drove him away.

As he ran off, he turned and said to the Kid, "It's what I thoroughly deserve: my trade is the butcher's, and I had no business to turn piper to please you."