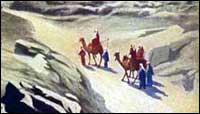 Bible Stories For Younger Kids
THE BIBLE IS one of the two or three oldest books in the world, and its many stories grasp and hold the attention of little children. Happy is that child who has heard, over and over again, the Bible stories until they have become fixed in their mind and memory, to become the foundations of a noble life.
It is with the desire in telling these stories, and aiding children to understand them, that a few among the many interesting stories in the Bible have been chosen, brought together and as far as necessary simplified to meet the minds of the young.
A Note to Parents and Teachers: Each of these stories has a printable version, so that they can be used in Sunday School, homeschooling, or as a daily devotional. Choose the print icon

located at the top right of the story page, to load a print version.