The Thieves And The Cock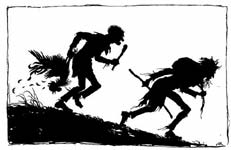 ome Thieves broke into a house, and found nothing worth taking except a Cock, which they seized and carried off with them.

When they were preparing their supper, one of them caught up the Cock, and was about to wring his neck.

The cock cried out for mercy and said, "Pray do not kill me: you will find me a most useful bird, for I rouse honest men to their work in the morning by my crowing."

But the Thief replied with some heat, "Yes, I know you do, making it still harder for us to get a livelihood. Into the pot you go!"